People's Archives
First post in three years!  After nary a picture of JP in all these years, now we have a video!
I met up with Mana last night in San Francisco. We were shocked to realize how long it has been since we last met up in the Bay. My youngest son was a fertilized egg when we met up last (and he's five now!).
We ate some expensive food, talked some shop, a little bit of Trade Wars (neither of us play, not much to talk about there!), and had a good time. We've decided to declare our get together The TradeWars Convention 2008. We're sorry you all missed out.
With recent discussion of another possible TW convention, I decided to bring up an old gag I created a few years ago for TWCon2000 in Las Vegas. That year Mana Knight could not make it due to personal obligations even though he really wanted to go. So I took this group picture and inserted Mana Knight into it and this is the result, saying MK was cloaked the whole time and only recently did he have cloak failure, resulting in his appearance in the group pic. The gag had a lot of laughs.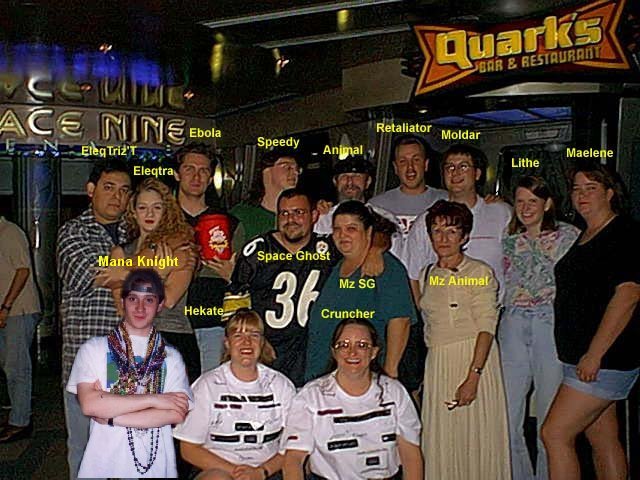 Two legends of Trade Wars made an appearance in The Home Sector forums. The Last Starfighter AKA Fooman and RawHead Rex each made a few posts in the forums inquiring about the happenings of TW today. What's funny is, Rex posted that he was surfing the net one day, thought about TW and popped into Eleq's site. LSF did the same thing a few minutes later. What are the odds of two legends deciding they got bored and decided to check out TW on the same day? About as much as winning the Powerball lottery I guess.
Who knows, I would not be surprised if legends like Ripclaw, Darkhawk, Rolodex, Hellcat, Gaurdian, and most notably – Hosem all decide to make a return to TW in time for the BOTE.
I would like to suggest a slot be reserved in the BOTE named "Hall of Fame" for the legends to represent. I would love to see how these legendary players stack up against today's players.
The Black Knights were one of the most dominating teams in their time. It is too bad I have not had the opportunity to play in the same game with them much other than the first WTC. But Artemis, Lord Chaos, and Maverick were in a class all by themselves with their dominating play.
Before I close out this post, I also want to mention one more legend – Cruncher. Her knowledge of the game was outstanding. Her beta testing helped make the TWGS what it is today. She is in a class all by herself and I am honored to have been part of her beta testing not long ago when we together helped run a beta server at Intergate.
Forgive me if I leave out anyone. Any ommisions are not intentional. These were just off the top of my head. Best of luck to any legends who decide to return to today's game 🙂
This is my final installment of the Trade Wars Gazette update. I wanted to cover a number of subjects before I bring down this website for good. First off, I'm happy to announce, as many of you already know, that Eleqtrizi'T has brought the Home Sector website back up online. It was only perhaps last year that he took down the BBS and handed over the website maintenance to Fuseblown. But Fuse himself ended up a little busy to take care of it, so it looked like the Home Sector was gonna die for good.
Then Easy E put out a comment page on his website where people could post their thoughts on what he should do with the Home Sector and based on those comments, he has brought the Home Sector back online. I'm very happy about this. Trade Wars was never the same without E and when he left, he also left a big void in the community no one has not been able to fill.
Say what you want about Hardcoded or Coastgames, two of the leading servers today, but no one could hold a candle to the Home Sector TWGS/Stardock BBS. Games like the Title Game along with his other trademark games like Massive, One Love, etc. were ultra competitive and classic battles. Eleq's edits were out of ths world and I hope the return of the Home Sector website also is followed by the TWGS or BBS soon.
Another subject I wanted to cover is the U S O. This year, for the first time in U S O history, Bad Girl is no longer the moderator and that in itself is a good thing. She has made way too many mistakes in the past which had a major effect on the games. I'm not gonna get into that now, but I just want to say I have 100% confidence this year's U S O should be one of the best tournaments of the year. Silver Dragon should do all right with it.
Next involves the passing of two members of the community in the past year. As many of you know, Jackal lost a valiant battle to cancer early last year and late last year, Kitty Moon AKA Rave AKA Lisa Wilson-Cutler died in a car accident. My thoughts and prayers go out to the familes of these two individuals. River Rat will run Jackal's Lethal Lotto game at Alien Base and I trust he'll do a fine job with it.
I also wanted to say this to each and everyone of you in the community: I wanted to let everyone know I have no beef whatsoever with anyone in the community. This includes Space Ghost, Kemper, Prestone, both Doctors, etc – all players that I have tangled with in the forums. Trade Wars is only a text based game that sometimes can get out of hand. Many people have lives that revolve around TW such as having a computer on 24/7 and running a bot to guard a home base and have an alarm go off to wake someone if he is being invaded. If you have to do that, then you know TW has control of your life. It should be the other way around. That's the nice thing about Cherokee's "I have a life" game where there is a 45 minute time limit. Unfortunateley, even I didn't have time to play that one though I wanted to.
There's been a lot of bitching lately that everyone needs to lighten up and realize it is only a fricking game, not something in real life to bitch about in the forums. Trade Wars is simply a game, nothing to get worked up over. I think all the fights is why a lot of members like BG, Guardian, Eleq, Cruncher, etc have left at one time or another. To sum it up, debates are nice in that conflicts can get resolved, but when you have turds like Res Judicata come in the forums and start crap, that's another thing and we don't need that.
Finally, this domain is going down for good very soon. I have until this fall to decide if I wanna let it go or renew it. Trade wars is addicting enough that I could very well bring the site back online later this year. Right now, I'm just not interested in Trade Wars to warrant maitaining the site though Eleq's return did inspire me to write this final article and perhaps even tempt me to bring TW Gazette back online for good, but common sense won out and I decided to write this one final article.
Peace out – Timberwolf
Every Tuesday, I'll be doing editorials with my opinions covering a variety of subjects, whether it is Trade Wars related or not. Today's topic is the departures of many long time TW players such as EleqTrizi'T, Cruncher, Bad Girl, Guardian, and Hekate. Let's start with EleqTrizi'T. This man was a legend in the TW community and is still a legend. He provided a kick ass game server along with an awesome website. Eleq was never satisfied with his machines hosting the TWGS, always upgrading them so that it provides fast and reliable connections for his players. Let me tell ya, I have heard very few reports of lag except at maybe tournament time and even then lags were minor. If there was a problem, Eleq was quick to respond.
Eleq also was a very intelligent man and the only thing matching his intelligence was his ego 🙂 Eleq would write all sorts of programs inluding dupe catchers as well as an entire BBS and teleconference chat and many other small programs. Eleq probably is the only man who could match Res Judicata in artistic ability on a computer, though I have to admit Eleq's images can be sometimes disturbing 🙂 Eleq was also the owner/moderator of the World Trade Wars Championships, the only tournament that had practically no rules – anything goes.
But late last year, Eleq had enough of the pissing and moaning by ungrateful players and shut down the Home Sector and Stardock BBS (both later taken over by Fuseblown) and left the community. Last I heard of Eleq, rumor has it he bought a house and I believe this is the same man who once told Cruncher he would never buy a house. I guess having an ever growing family can change a guy's mind. My best goes out to Eleq and his growing family and wish them well. I still hold out hope that one day he returns with a vegeance and some new fresh ideas.
Speaking of Cruncher, she is still around, talking to a few select people in the community. She is just not as active as she used to be. She still has her website online that contains photos of many individuals in the TW Community. If you want to update a photo on the site, simply send her an updated photo. Best of luck to Cruncher..especially when tax time rolls around 🙂
As for Bad Girl and Gaurdian, both left after USO '02 for the same reasons Eleq did. This page explains the reasons for their departure. Both Bad Girl and Guardian will be missed for one main reason: their work with newbies. They were always willing to let a newbie play with them and show them the ropes. Best of luck to Bad Girl and Guardian.
And finally, Hekate. I was unable to find out why she left. If anyone knows, contact me. For the time being, Liquid Chaos has the twlinks site and is currently waiting to get a hold of Hekate for DNS transfer so he can put it on a new server. Best of luck to Hekate.
To sum it up, I want to commend the community for stepping up and taking over many of the responsibilities of the individuals I mentioned above. Fuseblown runs the Home Sector website and TWGS. Rave is working on the Beta team in Cruncher's place. Silver Dragon now owns the USO and should do a very good job of it from what I heard of how he hosted USO '02. And Liquid Chaos has taken over TW Links site. As the saying goes, the show must go on.
I met Jon (Jackal) in my third Tradewars game on a small board. We didn't say much to each other he knew I was a newbie..gave me some pointers and we went our separate ways. Many games later we met again and played and flamed each other mercifully for about a year on the bbs Evolution. Then we struck up a friendship. We found out we graduated from the same university and a kinship evolved. ( GO UCONN Huskies). Jon had a strong personality but the kindest heart of anyone I every met. If someone was in need of anything..Jon was there for them, no questions asked. But Jon had a hot temper and could flame with the best of them! (was on the receiving end of those too). I will miss the phones calls Jon made to Guard and I. He would call just to check up and make sure everything was ok.
I very seldom played with Jon but played many games against him. He loved to build those figs! He wasn't the best player but he it was a game he loved. And he did play it well. His style was not like mine and we clashed when we did play together but it was his style and it worked. Even though Guard and I retired from Tradewars there are a few warriors we miss. And this fallen warrior will be very missed by Guard and I.
Jon now that you have landed on Stardock for the final time…remember our thoughts will always be with you. May you rest in peace.
Yeah I haven't played in awhile, but here is an official retirement.  I hereby retire from tradewars, sure I'll prolly be back, but I got to straighten my life out.  I now realize that life is short, in the past 4 months 2 of my best friends have died.  
Including last night.  On Monday I was in a car heading home from school with him.  The car stalled in middle of intersection, and a speeding, off duty cop car hit him going 85 mph in a 50 mph zone.  I have sustained minor injuries but unfortunately he had shattered most bones in his body, and had massive internal bleeding.  2 other friends were in the car, 1 had a broken pelvis, and the other had minor injuries. I know it wasn't my time to go because if I had gone a few more inches forward my head would have gone right through a sharp metal pole.  I know that I have to get my life on track, it is too short to goof around.  So now I leave u, and I will probably be back in a few months, but for now PEACE OUT!
Sir Lancelot
Jay Mitchell

Topics:
Helpers/Scripts
,
People
,
Tournaments
,
TradeWars News
,
TWGS Servers
,
TWGS Software
Tags:
attac
,
bad girl
,
big d
,
bote
,
guardian
,
hht
,
kitty moon
,
soul
,
space ghost
,
stonewall
,
swath
,
timberwolf
,
tw league
,
twar
,
twx
,
uso
,
wejl
,
wtc
,
xide
I have gone through many revisions of what I wanted to say in my head, and finally came down to only having a few last things to say..
Timberwolf, this isn't about you. This isn't about any mistake. Wrong or not, what happened pales in comparison to the countless problems this veteran Twarrior has weathered. Don't be a fool. What happened did, however, make me realize I had become intolerant of even the little things. That is the reason I am leaving. I do not have any enthusiasm for what I'm doing and haven't had any for a long time, and the majority of the TW community deserves better.
I say majority, because, there is a minority of you that needs to learn to keep your mouth shut, and realize your petty bickering, poor sportsmanship, ungratefulness, complaining and controversy-of-the-day attitudes are becoming an old, old act….that has sucked the love for TW out of me and countless others before me.
Last, I just wanted to thank mostly everyone for the good times I've had. Few regrets, many happy memories. I don't want to go on a big list naming and thanking everyone, because those who *really* matter already know they matter to me. I also wanted to say if you've sent me a good-bye email, thank-you. As far as responses go, anything coming to me being TW-related is not going to get a response for quite some time, if ever. It's just part of the process I must go through to clear my mind. I hope you all understand.
Logging off,
Agustin Rivera
Premier/EleqTrizi'T
June 1991- November 2001

Search
Social

Categories
Download TWGS
TW Forums
TW Game Servers
TW Helpers/Scripts
TW Information